Calculate Your Stamp Duty
Stamp Duty Land Tax in England and Northern Ireland
Residential rates on purchases from 1 October
If you purchase a residential property from 1st October 2021, you will have to pay Stamp Duty Land Tax (SDLT) on the amount that you pay for the property above £125,000. This means any buyer purchasing a primary residential property up to the value of £125,000 is exempt from paying Stamp Duty.
Depending on your circumstances, the tax thresholds change, for example, the price of the property and whether you are buying an additional property, will impact on the amount of tax you pay.
You can use the below table to work out the SDLT due: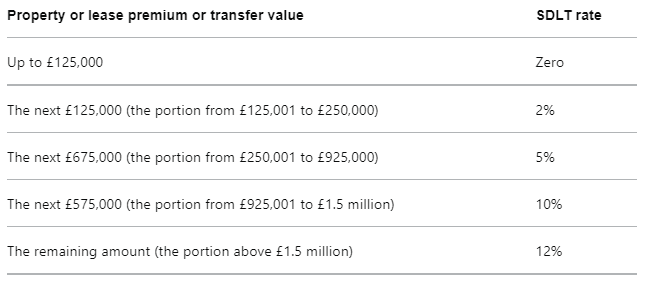 In addition to the above, there is a discount relief for individuals buying their first home from the 22 November 2017. This means that there will be no SDLT payable on first homes up to the value of £300,000 and 5% SDLT will be payable on properties with a value between £300,001 to £500,000. If the purchase price is above £500,000, then the Stamp Duty table above applies, following the rules for those who've bought a home before.
View a selection of homes under £925,000
Second homes
When it comes to purchasing a second home, the higher additional rates remain with a 3% higher rate on top of the newly revised standards. So, if you are purchasing a holiday home up to the threshold value of £250,000 you will pay 3% SDLT. Those buying a second home over the threshold will pay 8% on the portion from £250,001 to £925,000, 13% on the portion from £925,001 to £1.5 million, and 15% on the remaining portion over £1.5 million.
Visit gov.uk for more information
Example
In October 2021 you buy a house for £295,000. The SDLT you owe will be calculated as follows:
0% on the first £125,000 = £0
2% on the next £125,000 = £2,500
5% on the final £45,000 = £2,250
total SDLT = £4,750
If you're buying your first home
You can claim a discount (relief) if you buy your first home before 8 July 2020 or from 1 July 2021. This means you'll pay:
no SDLT up to £300,000
5% SDLT on the portion from £300,001 to £500,000
You're eligible if you and anyone else you're buying with are first-time buyers.
If the price is over £500,000, you follow the rules for people who've bought a home before.